Since Jeremy Corbyn became Leader of the Labour Party in September 2015, Labour has tripled membership to become the biggest political party in all of Western Europe. While thousands of those 'new' members were old Labour Party members returning to the fold, most were new to Labour and new to politics in general.
No matter how friendly other members are, it can be VERY daunting attending your first Constituency Labour Party (CLP) meeting; many things seem so confusing, so 'alien', so seemingly complicated. One of the main areas that can be daunting to new and old members alike, is campaigning. Yet, as we all know, campaigning-as in physically campaigning-is essential to any potential Labour success at any level. Yes, social media is also vital, but actually going out door-knocking and engaging with people is at the heart of what needs to be done as Labour Party members.
Of course, not everyone is comfortable doing this, and there will always be plenty of other ways members can contribute should they never feel comfortable 'out on the door step'. However, this article written by a new member (CLICK HERE), may be inspiring to both new and experienced members. The text from it is here:
"I'm Matt, from Mansfield, and I study Politics at the University of Leeds. I recently went canvassing on an #Unseat day in Mansfield for the first time.
"I was very unsure about the idea of door-knocking at the start. I chose to study politics because I want to contribute to a better, fairer society, but the thought of knocking on people's doors felt a little intrusive: I wasn't sure how it would be received, particularly with the Calcutta Cup on TV and a 3pm Mansfield football match. I pictured going door-to-door trying to hard-sell a Labour vote (very much me on Facebook in the build-up to the General Election), potentially annoying or irritating people.
"But that couldn't be further from the truth. The focus of the day was on policing and crime in the local area, but the first question any canvasser asked was: "Are there any local issues you'd like to bring up?". People's reactions were mixed, but most people were happy to talk, even if they disagreed with you. My favourite moment was speaking to a lady who had voted Labour all her life but voted Conservative in 2017. I wouldn't claim that I changed her views, but I thought she warmed to the idea of voting Labour in the future, and she promised to look into our parliamentary candidate Sonya Ward.
"Speaking of which, I met some amazing people! I didn't get home early enough to meet for the training but I met with a canvassing group around midday. Walking down from Bellamy to Berry Hill with my dog, Poppy, I was first greeted by Owen Jones. He introduced me to Sonya, Leigh (hopefully the next chair of Young Labour), Anastasia, Joe and others. They were all friendly, welcoming and brilliant campaigners. I knocked on my first few doors with Owen as he showed me the ropes, before knocking on a few doors alone and with others. I found that the best way to talk to people was by being positive and friendly. It also helped having a cute dog with me.
"The icing on the cake from the day was finding out that Ben Bradley was forced to settle on Jeremy Corbyn's terms for his libellous claims. A significant amount of money being split between a Mansfield foodbank and a homeless outreach centre left us all feeling over the moon, and we wasted no time telling people on the doorstep. Homelessness is one of the most embarrassing, disgraceful problems we have to deal with in the UK, and one of the issues that made me first realise I was a socialist.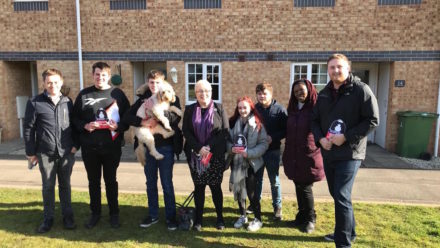 "I also learnt a lot. Speaking to Leigh Drennan, I learnt about political history and the trade union movement, particularly Jimmy Reid and the Upper Clyde Shipbuilders occupation. I can't wait to see Leigh representing a Manchester constituency in Westminster within the next 10 years.
"Once we'd finished canvassing, we went for a bite to eat in a local pub before heading back to the Mansfield Gas Sports and Social Club for closing comments. Jeremy Corbyn called and gave a short speech, which was a perfect end to a great day. As well as the sense of achievement, the community aspect of the day was heart-warming.
"I would absolutely recommend anyone who cares about contributing to a better Britain to attend a local Labour branch meeting, or one of the #Unseat days. Even if you aren't ready to make a full commitment in joining the Labour Party, I am certain you would be welcomed with open arms to gain an insight and see what difference you could make. Personally, I intend to do more both at home and in Leeds.
"Thank you to all the people I spoke to and good luck to Sonya Ward! I hope to see Ben Bradley ousted as soon as possible.
Matt Cooper is a Labour and Momentum member from Mansfield."
We at Clwyd South Labour Party encourage EVERYONE to get actively involved. Sharing articles on social media is essential, but we must never forget that getting out there and putting forward the excellent policies will always be our 'bread and butter' and always be vital. Please do contact us any time, about any issue; we are firmly committed to being as inclusive as is possible to be. You can ask us loads of questions or none; either way, engage and be a part of history in the making!
If you have yet to become a member, why not join us? You can have a direct say on policy, on the Manifesto-your ideas will be heard (and requested). Yes, while it is a soundbite, it really is true that Labour is very much "For the many, not the few". If you have any queries or questions, please do contact us. If you would like to become part of this inclusive, supportive, progressive and exciting Movement, you can join by following this link & CLICKING HERE.
In Solidarity,
Adam Samuels – Clwyd South Labour Party Media & Community Engagement Representative